Sunshine News
Farewell and Good Luck Jack
We would like to take this opportunity to wish Jack the very best of luck in his new adventures! Jack joined us 4 years ago on our graduate scheme and was an integral part of the Leisure Department. We would like to wish Jack the very best of luck!
Weber World Launch Summer 2018
The latest Weber World Store launch takes place on our 28th Anniversary - Saturday 17th of March2018.
There will be a free Weber taster demonstration taking place outside Sunshine Garden Centre, the launch of the new store and spot prizes running throughout the day. Come in and check out what is going on.
Winter/ Spring 2018
Sunday roasts at Sunshine Garden Centre are back. To avoid disappointment please book on 020 8829 8848.
Example menu below: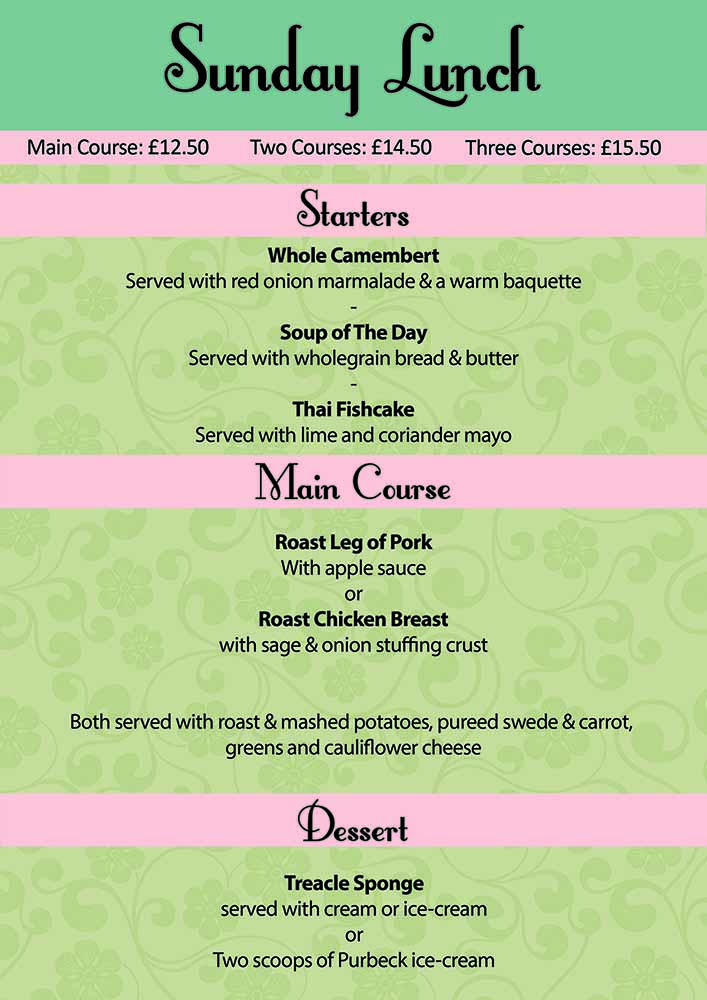 July 2017
Last night our team won multiple accolades at the 2017 North Thames Garden Centre Association Awards.
We won Garden Centre of The Year, Garden Products Retailer of The Year, Best Customer Service and September Finalists for the National Ruxley Rose Competition in September, for Best Plant Area!
These awards are testament to the incredible team we have, pulling in the same direction to offer our customers a unique shopping experience!
Thank you to everyone!
Sunshine Wins Best Christmas Display for the North Thames Region

G.C.A. Regional Awards - Thurrock Garden Centre - July 2016
There was another great evening for Sunshine Garden Centre, at Thurrock Garden Centre, for the North Thames Garden Centre Association Regional Awards.
Winners of The Best Garden Centre, Best Outdoor Living Retailer and finalists of The Ruxley Rose Competition!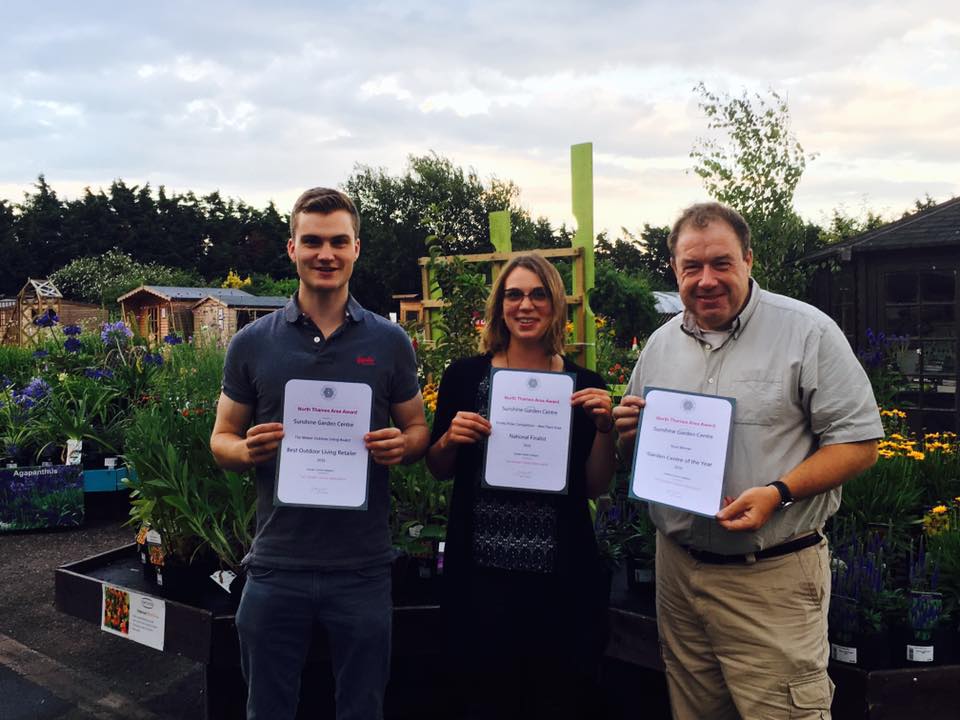 St. Martin of Porres Community Garden - July 2016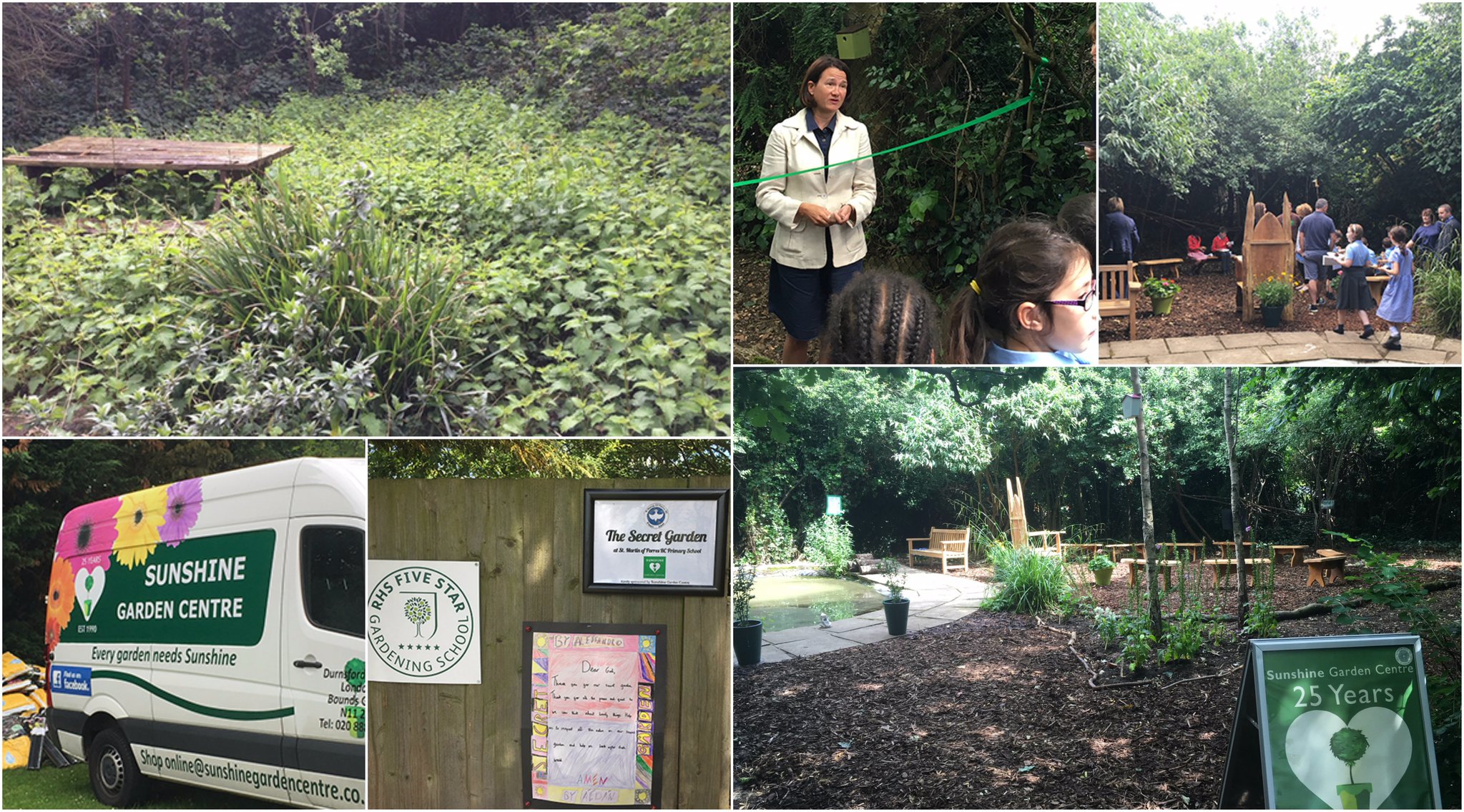 Over the last few months Sunshine worked closely with St Martin's Primary School member of staff, Pam Grace, who took charge of a project to transform an overgrown piece of ground into an incredible outdoor classroom. You can see from the top left picture what the area looked like until a team of 3 from Sunshine (Paddy Mc, Phil Sargeant and Paddy L) along with help from parents of St Martin's, got stuck into a tough but thoroughly enjoyable task.
The opening took place on Thursday 14th July and despite what must be a very hectic time for an MP, it was great to see our own MP, Catherine West, open up the garden.
Although led by Pam, the idea of the garden came from headteacher, Miss Irene Tyrrell, who this year is retiring from teaching after over thirty years at St Martin's. On the opening, Miss Tyrrell also presented a bench in memory of Margaret Quin, who passed away while teaching at the school to her parents who were in attendance.
In time, the garden will be open, not only to St Martin's pupils but also other schools in the local area.
Sunshine Garden Centre and Middlesex County Cricket Club
Read what happened when Sunshine Garden Centre and Middlesex County Cricket Club joined forces for a day of team building, fun and some hard graft! Click here to read the story!
London's ONLY Weber World Store.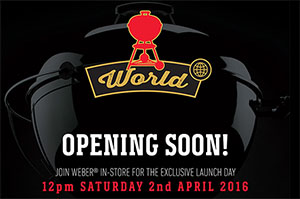 We are delighted to have been chosen and certified as a Weber World Certified Store. We've been representing the Weber brand in store since 1990 and online since 2002. Simply stated, we are the Weber Experts.

You'll find the entire range of Weber BBQs and accessories in our newly redesigned showroom, this combined with the service provided by our Weber trained BBQ experts makes us truly the only destination for Weber.


We have been accredited by Weber as London's ONLY Weber World Store. This is a huge privilege to Sunshine Garden Centre and WoW BBQ and is testament to the many years that we have committed exclusively to selling Weber BBQs. We have always dedicated a huge amount of space to Weber and all of our staff are true Weber experts - our staff use Webers regularly and have all attended Weber training annually. This differentiates us from many of our competitors.

What does Weber World Store mean?

Everything you could ever wish for your Weber under one roof. Welcome to a completely new concept for barbecue lovers, and those who want to learn more about the fantastic array of dishes that you can cook up on a Weber barbecue.

At Sunshine Garden Centre / WoW BBQ, you will find:

EXTENSIVE RANGE: Our new Weber World store stocks a much larger range than normal, so you are sure to find the perfect barbecue or accessory.

TRAINED WEBER EXPERTS: Our experts are on hand to offer you friendly and knowledgeable advice, and help you choose the barbecue that is right for you.

DELIVERY AND ASSEMBLY SERVICE: All Weber World stockists offer a full delivery and assembly service leaving you to start cooking up the good stuff!

WEBER APPROVED SERVICE CENTRE: To ensure your barbecue continues to give many years of service, we offer a full range of annual health checks and service options. Please ask for details.

EXCLUSIVE LIVE EVENTS: See first hand how to get the best from your barbecue with many live cook events throughout the year.
Orchid Clinic - March 2016
Thanks to all of those that attended our Orchid Clinic. We hope you all learnt plenty from our guest speaker, Dr Manos Kanellos, an expert on orchids from Growth Technology.
The clinic proved extremely popular, so popular that we will have to make extra room for the next one!

Rising Star Competition
Many congratulations to Jack who got all the way to the Final of the GCA Rising Star Competition. Jack was did himself and Sunshine extremely proud when he presented in front of over 200 Garden Centre Association Members about his project on garden centre retail!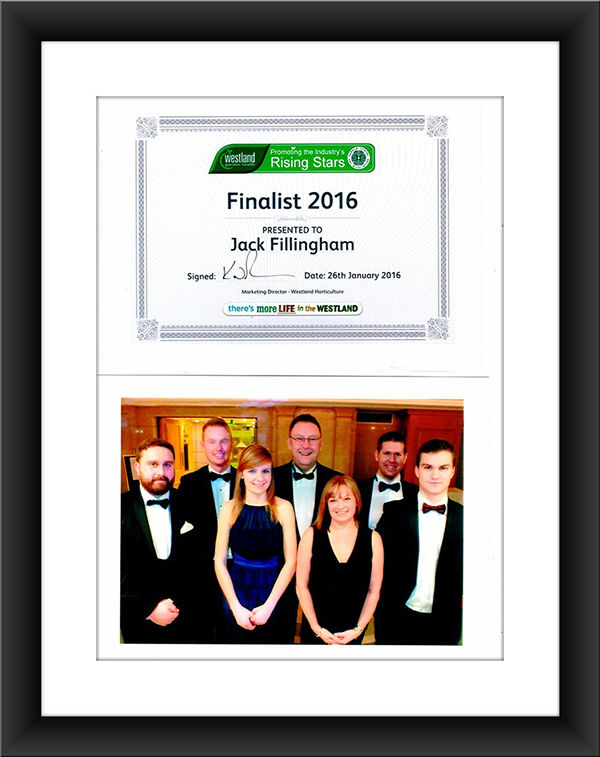 Haringey In Bloom - 3rd November 2015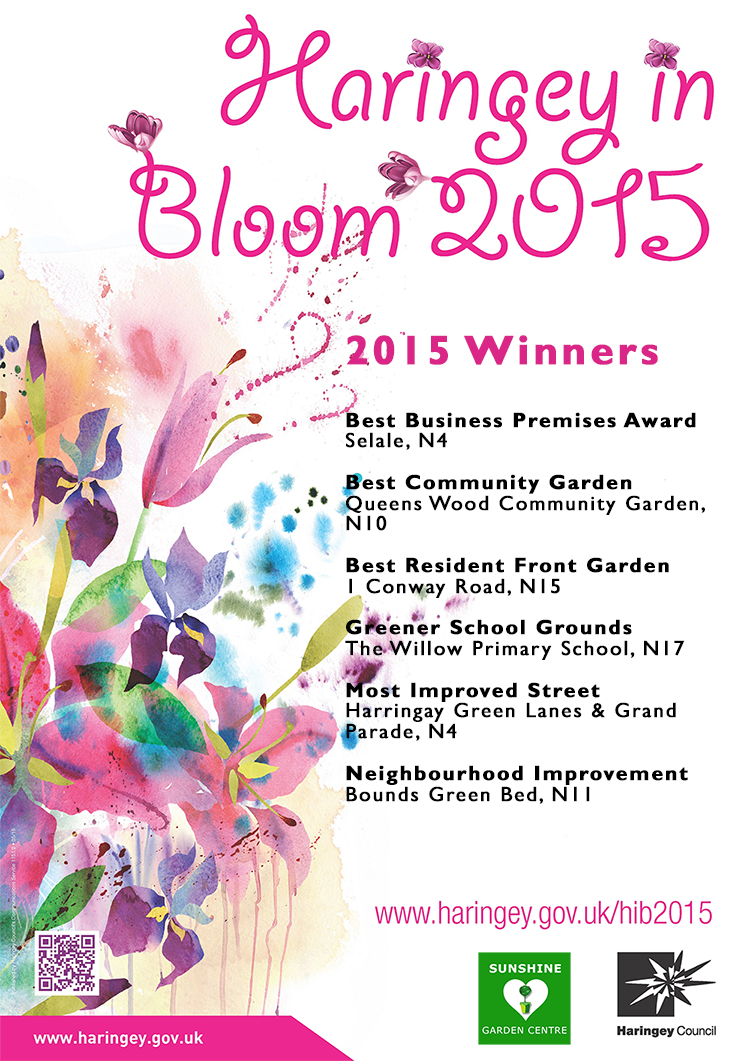 Rising Star - Finalist - October 2015
Huge congratulations to Jack who has got through to the final round of the Garden Centre Association Rising Star competition. A great achievement!
Jack has been with us for 18 months and is an extremely popular member of the team among his peers and customers!
The final takes place in January 2016 - Good luck Jack!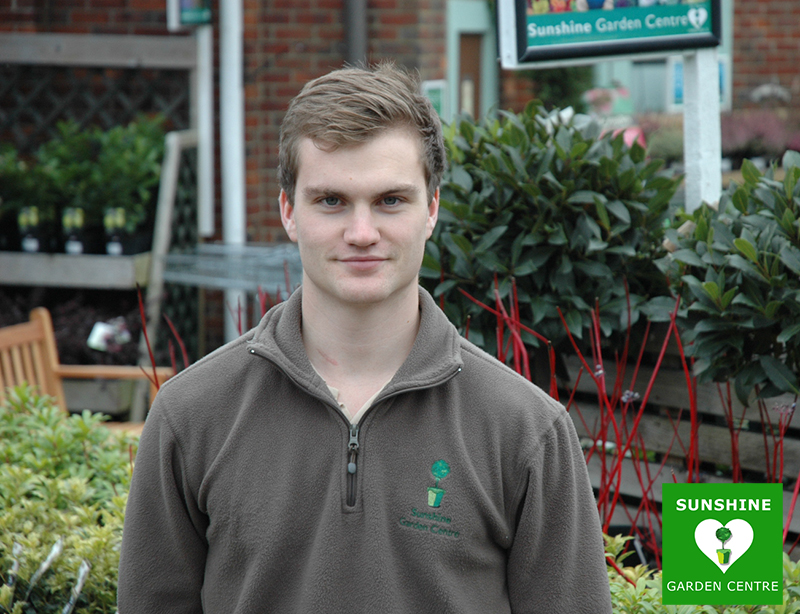 GCA Regional Awards - July 2015
On Monday 20th of July, Sunshine Garden Centre attended Perrywood Garden Centre in Essex for the annual GCA North Thames Awards. A first time visit for all at Sunshine, we were all left seriously impressed with a fine garden centre.

Sunshine left the night with 4 prestigious awards under their belt:
Best Garden Centre
Weber Stephens Best Outdoor Living Retailer
Best Plant Area
Ruxley Rose National Finalist
We will strive to continue to meet our's and our customer's high standards and hope to convert the above awards into national awards which will take place next year! Fingers crossed!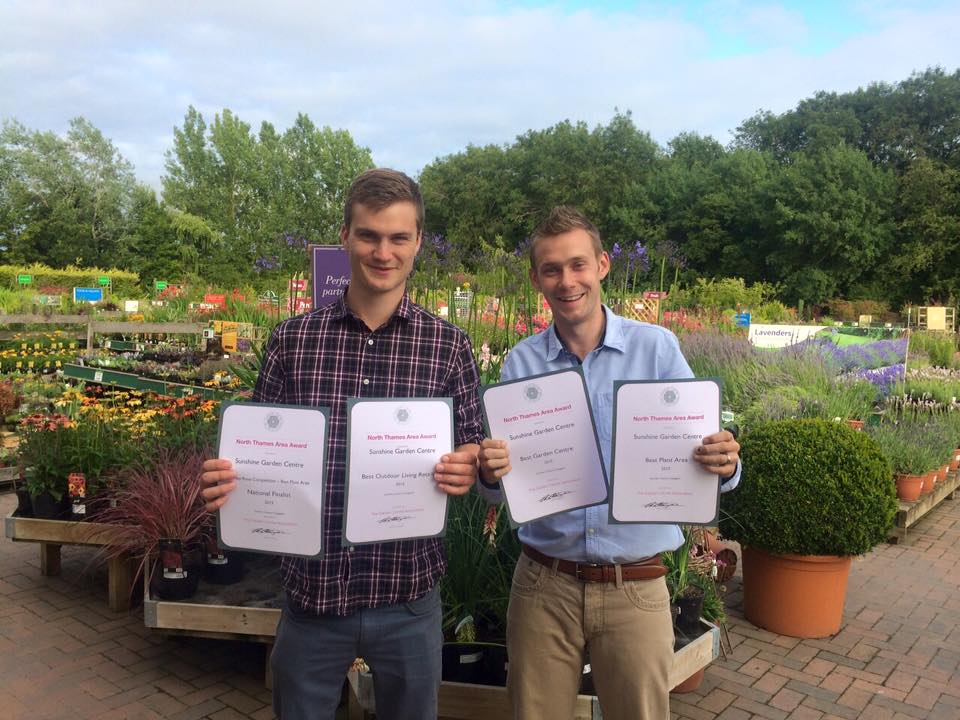 Sunshine Garden Centre and Barlow Tyrie work together to win
prestigious Bronze Award at the RHS Chelsea Flower Show!
We are pleased to announce that we have been awarded a prestigious 3 Star Award for our stand at the RHS Chelsea Flower Show in assosiation with Barlow Tyrie.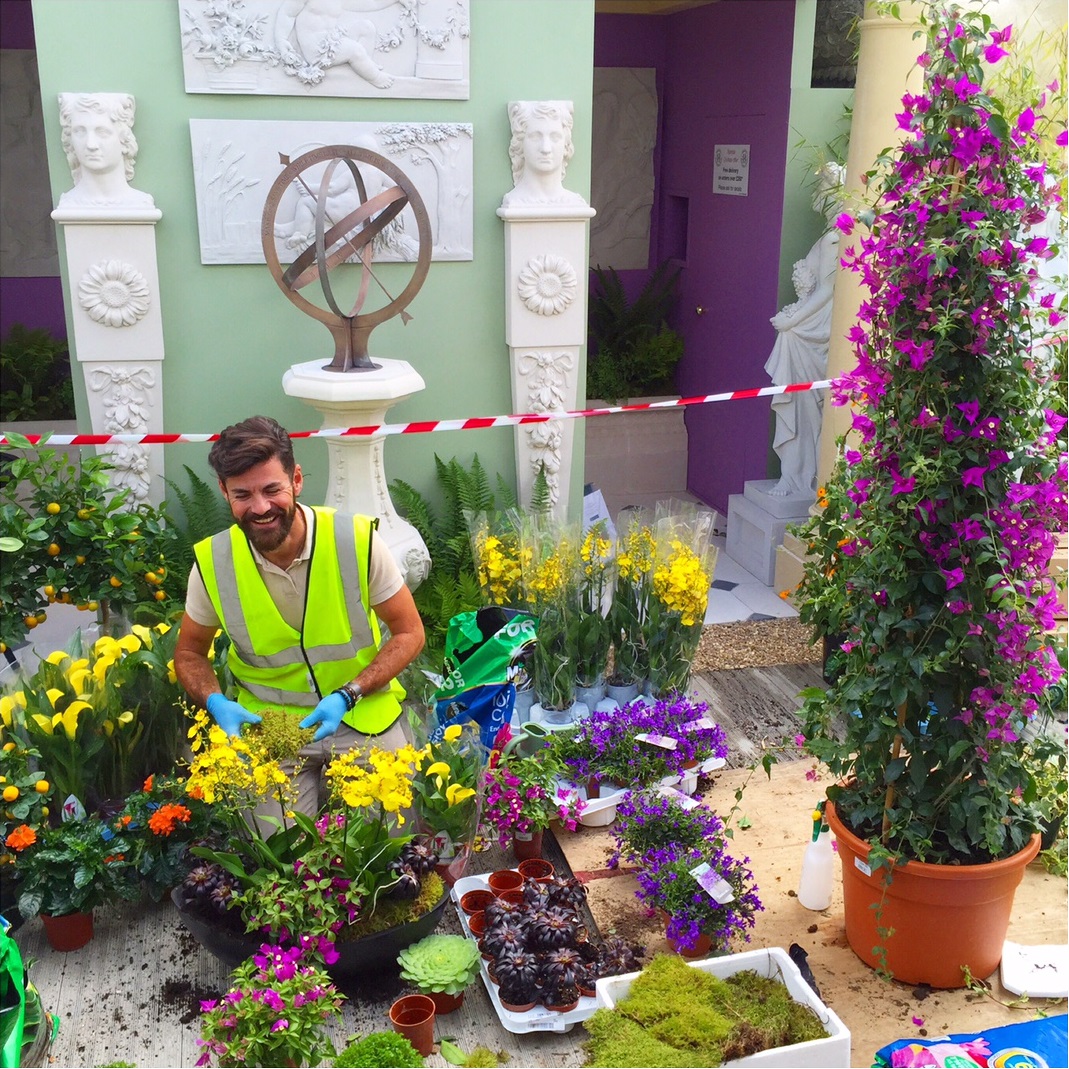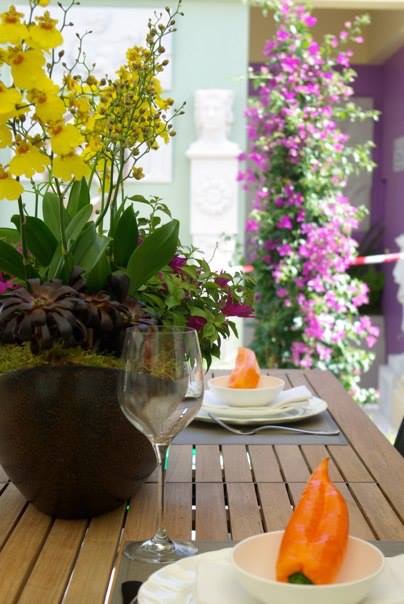 Eat yourself fit with the new super vegetable Yacon!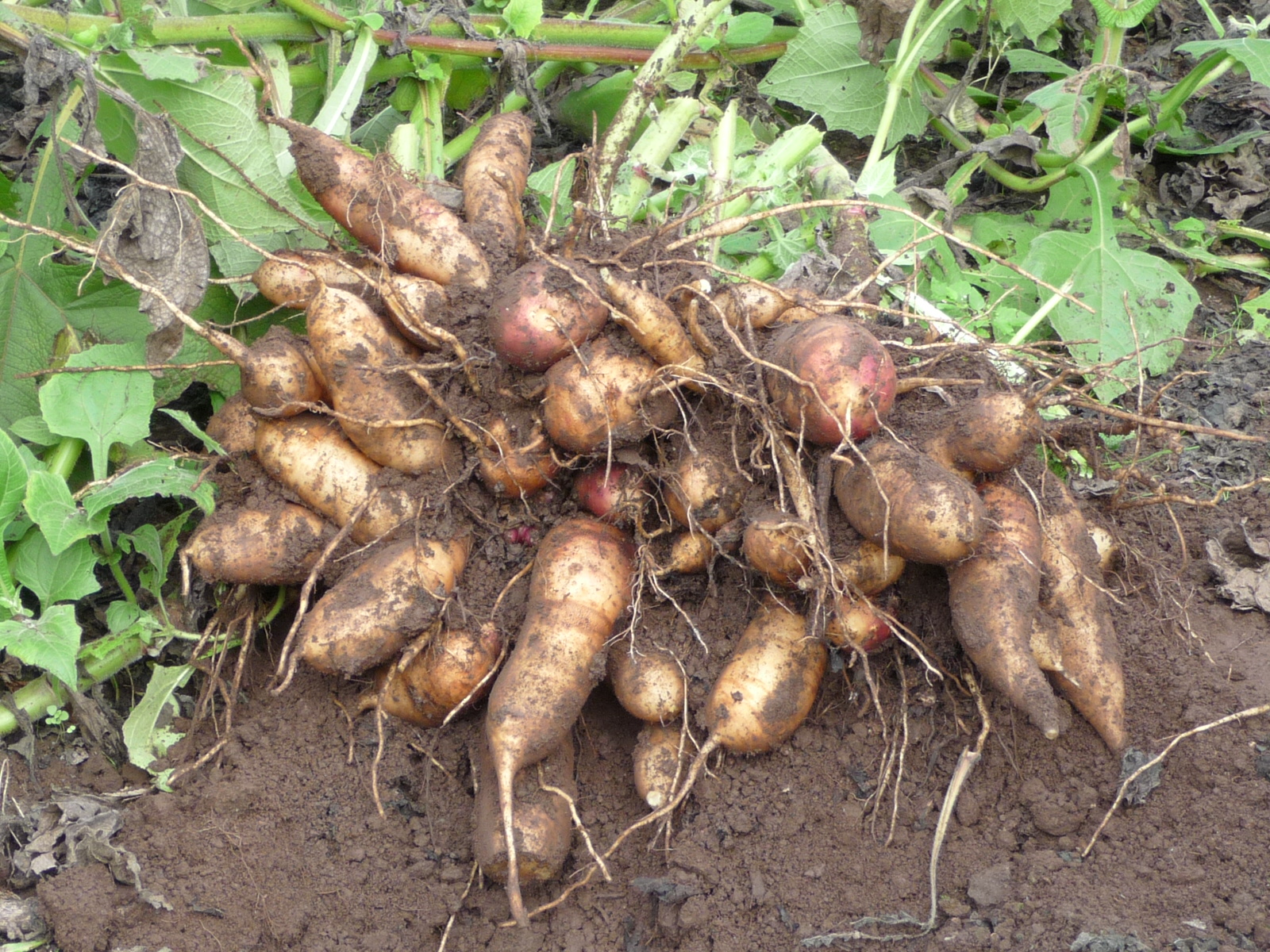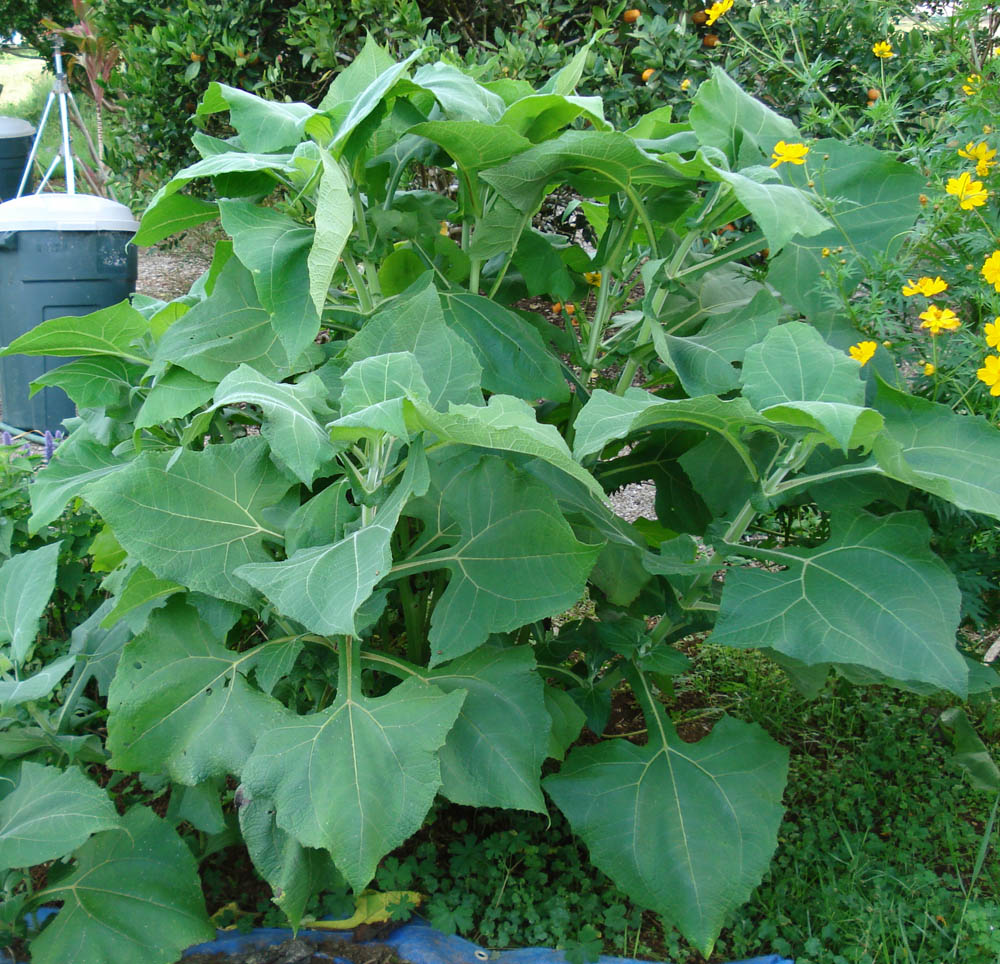 Sunshine garden centre are pleased to announce the arrival of a brand new super-vegetable to your dinner plate this autumn. Purchase the amazing Yacon (Peruvian pear) from 16th June for just £4.99 for a limited time only.
This amazing vegetable which grows like a large Dahlia tuber is high in antioxidants and a natural source of calorie free sweetener for diabetics. It also suppresses appetite and aids digestion. A tea made from its leaves also lowers blood sugar levels.
It has a wonderful crunchy texture like water chestnut that tastes like a pear that can be eaten raw, pulped or boiled much in the same way as potato.
These amazing qualities plus the fact that you actively garden will help you shed those excess pounds.
GCA Awards - 2015
We are extremely proud to announce that Sunshine Garden Centre won two awards at the national Garden Centre Association (GCA) Conference. The prestigious event was held at Carden Park Hotel where Patrick Loughrey, Graham Carrick and Riyanna Cader were on hand to collect the trophies for The Best Customer Service and The Weber Outdoor Living Best Retailer Award.
We are fantastically proud of our achievements and grateful to our staff who have worked extremely hard to keep to our high standards. We are also thankful to our loyal and growing customer base!

A little bit of Sunshine in Crescent Rise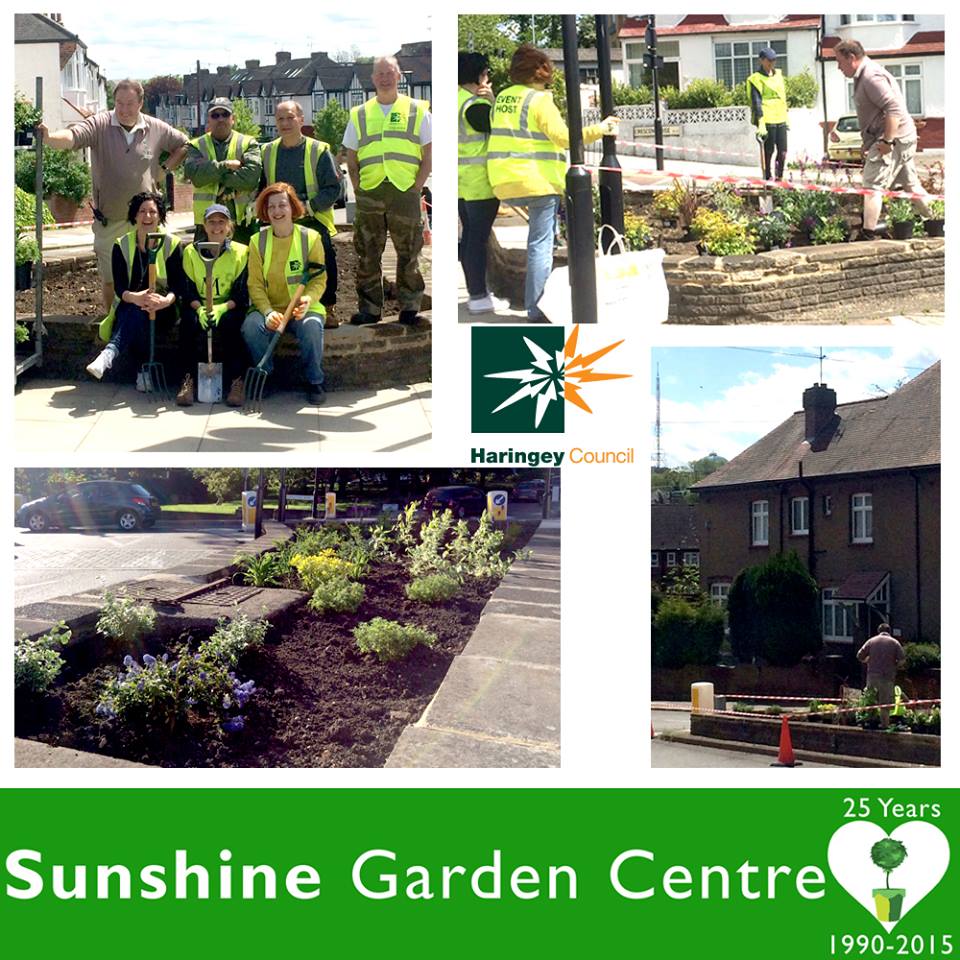 Sunshine Garden Centre worked alongside Haringey Council to transform this planter at Crescent Rise. Sarah Jones from Haringey Council coordinated a team of volunteers and Denis from Sunshine organised the plants. We hope you agree, the space now looks great!
Thanks to Sarah for her hard work, the volunteers, Denis for his plant expertise and for wearing his shorts - you know the weather has turned for the good, the day that happens!
Weber Grill Academy On Tour
A massive congratulations to both Lee and Jack who represented WoW BBQ & Sunshine Garden Centre at Weber Grill Academy On Tour Training Session! Candidates from Weber Dealers around the country assembled in Leicester to take part and we're proud to say that our team of Weber experts outstripped the competition on both days! Jack (drawing with Patrick, Patrick hastens to add) blew everyone away on day one with his product knowledge, taking home the grand prize of a Weber GoAnywhere Charcoal BBQ! Lee did the same thing on day two! Just goes to show why we're the UK's leading Weber Specialists! With product knowledge like ours, why would you buy from anyone else?

Sunshine's 25th Anniversary
25 years ago on St. Patrick's Day in 1990, Eamon Loughrey opened the doors for the first time at Sunshine Garden Centre! The old use of the site was still very apparent and the Olympic standard swimming pool remained. As years went on, the site developed, the product range grew and diversified - with that the team expanded and we are now considered one of the top garden centres in the UK. Here is to many more great years ahead! — at Sunshine Garden Centre.

RIP - Joe Keaney
It is with great sadness that we share with you the news that our friend and former colleague Joe Keaney passed away on the 1st of February 2015. Joe was a great character to have around Sunshine, a hugely popular figure with customers and his colleagues!
Joe's wit, charisma, values and unrivalled ability to tell a story left a lasting impression on those who met him.
Our thoughts and prayers are with Joe's loving wife Molly, and the rest of the Keaney family.